Expert Computer Repair
Since 1994
Residential Services
Keeping Your Home Computer Running Smooth
Welcome to Bits and Bytes! We specialize in Commercial Computer Repair and Virus Removal!
Established in 1994 Bits and Bytes Provides Onsite Computer Repair Service for The Katy and Houston, Texas areas. Call 281-395-9800 today to schedule your service! Our staff is here to assist you, we offer more than 50 years of combined experienced computer repair service to Katy, TX and the surrounding areas such as Mission Bend, Pecan Grove, Richmond, Rosenberg, Sugar Land, Stafford, Texas City, Missouri City, Bellaire, West University Place, Tomball, Houston, Aldine, Spring, Jacinto City, Fulshear, Sealy, Sugarland and The Woodlands.
We are open Monday – Friday 8am to 6 pm, Saturday 10am to 3 pm.
Who we are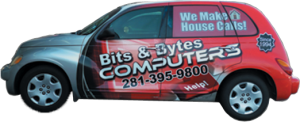 Bits and Bytes Computers is the culmination of years of hard work and experience , we bring you a total Technology solution under one roof. Bits and Bytes Computers specialize in Virus Removal, Spyware Removal, Windows Repairs, Desktop and Laptop Computer Repairs for the Katy and Houston areas such as Conroe, Spring and Sealy.
Can't come to us? We'll come to you!
We specialize in on-site commercial and residential computer repair services. It's the quickest way to get your computer fixed.
Commercial Services: Commercial services are based for those companies who need their issues resolved FAST to keep business moving optimally for better work productions. We do everything from networking, email setup, virus removal, to setting up new system and linking personal devices, CCTV and access & control. We do it all. *Note: depending on distance, travel fees may apply. Call store for details.
Residential Services: Residential services are based for those clients who live outside of our area or who just simply can't make it into our shop. We do everything from wireless setup and computer setup all the way to virus removal as well as general maintenance on your computer to get you back up and running FAST.
What Others Say About Us:
What can I say about Bits & Bytes Computers other than simply........AMAZING! Ryan helped me understand what was going on with my computer, took care of the viruses that had popped up from adds, and upgraded my software from McAfee to Kaspersky (which was a way better anti virus software, who knew!). He took care of me and the price wasn't so bad either. I was super nervous going in because of how much it would cost, but he was so helpful and knew his stuff. I will be going to them a lot more now!
- Victoria Gemeny
My daughter's laptop was "dropped" 3 days before a trip that we needed the laptop for. These guys were super helpful, knowledgeable, and were able to get it done for us BEFORE we leave for our trip. I wish I had used them the many times before when I needed PC help!!
- Yasser Rashad
Very knowledgeable and friendly. Loved the "motherboard wall" that tells you how much this guys love their job.
Went in with a few questions, came out with exactly what I needed at a good price.
Prices and inventory are decent. Awesome customer service.