Expert Computer Repair
Since 1994
Residential Services
Keeping Your Home Computer Running Smooth
Welcome to Bits and Bytes! We specialize in Commercial Computer Repair and Virus Removal!
Established in 1994 Bits and Bytes Provides Onsite Computer Service for The Katy, Fort Bend and Houston, Texas areas. Call 281-395-9800 Bits and Bytes Computers is a full service computer repair shop offering service to Katy, TX, Houston, TX and the surrounding areas of Houston such as Fulshear, Sealy, Sugarland and The Woodlands.
We are open Monday – Friday 8am to 6 pm, Saturday 10am to 3 pm.
Who we are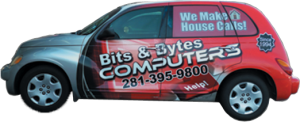 Bits and Bytes Computers is the culmination of years of hard work and experience , we bring you a total Technology solution under one roof. Bits and Bytes Computers specialize in Virus Removal, Spyware Removal, Windows Repairs, Desktop and Laptop Computer Repairs for the Katy and Houston areas such as Conroe, Spring and Sealy.
Can't come to us? We'll come to you!
We specialize in on-site commercial and residential services. It's the quickest way to get your computer fixed.
Commercial Services: Commercial services are based for those companies who need their issues resolved FAST to keep business moving optimally for better work productions. We do everything from networking, email setup, virus removal, to setting up new system and linking personal devices, CCTV and access & control. We do it all. *Note: depending on distance, travel fees may apply. Call store for details.
Residential Services: Residential services are based for those clients who live outside of our area or who just simply can't make it into our shop. We do everything from wireless setup  computer setup  all the way to virus removal, and general maintenance on your computer to get you back up and running FAST.
What Others Say About Us:
VERY helpful! They were more than willing to talk to me about my computer issues and try to problem solve without immediately charging me by the hour like other places. Great experience. If you like "mom and pop" small business models this is the place to go. They have the knowledge and skills of a big business with the personality and helpfulness of a small business. I highly recommend!
Visited location off of Mason in Katy to retrieve a resume off of a old floppy disc and they refuse payment due to my resume indicating Military Service. After spending twenty years in military it's always with great pride to hear that someone truly appreciate military sacrifices. Military personnel's support those who support us. Thanks again Bits and Bytes.
- Kenneth Johnson
A brief note to thank the Bits & Bytes team for your support recently during the purchase/re-installation of my new computer. While I'm sure that many of these installs go quite smoothly, my situation was more challenging and required more effort on your part than one was normally expecting. At this point, it seems that all questions have been answered and each aspect of the system is now operating properly.

A special thanks to Derrek, Aaron, Ray, Robert and Larry for continuing to make sure that the new computer performs to expectations. It is clear to understand why Bits & Bytes has been so successful over the years, through your dedication to customer satisfaction.
- Stan Stanley - Stanley Signature Signs